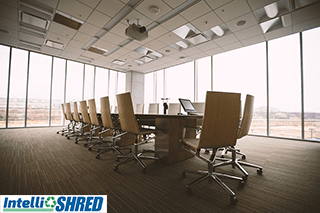 Corporate Information Management
With the many recent reports of fraud and theft, companies both large and small are always a target. Today's employers must work diligently to prevent the theft of confidential and proprietary information.
Regulations like the Gramm-Leach-Bliley Act and the Sarbanes-Oxley Act are in place to offer protection, but companies should also add on policies and procedures which help them safeguard against fraud.
It's simple for organizations to establish and enforce corporate information management security policies – following these steps will help them combat against fraud.
First Step: Identify and prioritize confidential information within your organization
Most organizations need to begin by categorizing their confidential information by value and confidentiality. By doing this first step, companies can prioritize which data to secure first. Customer information systems or employee record systems are the easiest places to start. Social Security numbers, account numbers, personal identification numbers, credit card numbers and other types of structured information that will need to be protected. Contracts, financial releases and customer correspondence are also important to protect.
Second Step: Perform a risk assessment and study current corporate information management
It's necessary to see exactly how confidential information flows around the organization. Identifying the processes that involve confidential information is a straightforward exercise, but determining the risk of leakage requires a more in-depth examination. The following questions are important to get answers to:
Who can access these confidential information assets?
How are these assets created, modified, processed or distributed?
What type of gap exists between stated procedures and the exact actions of employees/staff?
Keeping these questions in mind, companies will be able to identify vulnerabilities in their handling of corporate information management.
Third Step: Determine the appropriate levels of access to confidential information
A company can develop distribution policies for all types of corporate information management based on the risk assessment. These policies should govern exactly who can access, use or receive which type of content and when, as well as oversee enforcement actions for violations of those policies.
Distribution policies should be created for the following types of confidential information:
Customer information
Executive communications
Intellectual property
Employee records
When these distribution policies are better defined, companies can then also implement monitoring and enforcement points along the communication paths.
Fourth Step: Implement adequate monitoring and an enforcement system
It's crucial for companies to monitor and enforce established policies. The system created should monitor information usage and traffic, verifying compliance with distribution policies. Software systems can accurately identify threats and prevent them from affecting the company. The monitoring system should have the ability to avoid false alarms as well.
Fifth Step: Review monitoring progress and level of fraud risk
The most effective way organizations can protect against fraud is to regularly review their systems, policies and training. Through monitoring systems, organizations can improve employee training, expand deployment and systematically eliminate vulnerabilities. Systems should be reviewed regularly Both internal and external audits are useful for eliminating vulnerabilities and threats.
Today's companies need to identify sensitive data; understand current business processes; craft appropriate access, establish distribution policies and monitor all communications. One of the easiest ways to safeguard your confidential information is to shred and destroy documents and information storage devices.
The benefits of hiring a professional shredding and electronic destruction service are clear – it's the most effective way to avoid facing information security risks. It's absolutely crucial to put safeguards in place that will protect your business. IntelliShred has been awarded the highest security rating, "AAA Certified" by the National Association for Information Destruction (NAID). Contact us today on how we can assist you.