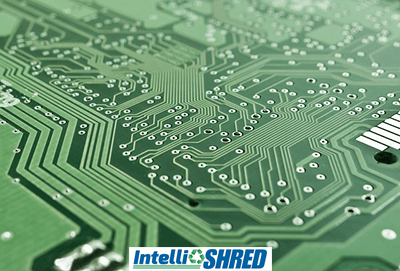 Electronic Destruction
E-Waste and digital storage systems represent a huge risk to businesses and organizations regardless of their industry. If you store sensitive records, whether they are customers' or employees' personal details, financial data, or medical records, you are at risk when disposing of electronic devices and storage mediums. Electronic destruction is the answer.
The risk of data loss or theft increases with the growing capacity of digital storage devices. And increasingly small storage devices, such as flash drives, servers, or hard drives, easy to lose, steal, or conceal. The impact of data breaches and the legal ramifications of a data leak aren't worth the risk. Handling confidential information securely is critical with electronic destruction services.
While information on your devices may have been encrypted at the time, these encryption techniques may no longer be fit-for-purpose. Data that was once considered secure can become vulnerable overnight.
Insurance details and medical records are just two examples of documents that are typically retained for many years. When the time to destroy the data arrives, the encryption techniques used to create them may be obsolete. This means that a failure to destroy and dispose of these devices could lead to confidential information being exposed.
Wiped data can often be recovered in whole or in part, even when the storage device has had deep formatting or has been degaussed. The only sure and 100% safe solution for destroying electronic documents securely is to destroy the medium physically. Shredding devices such as DVDs, flash drives, and hard drives is referred to as electronic destruction.
Electronic Shredding
IntelliShred provides the solution to electronic destruction through our e-waste destruction and recycling services. We either perform a regular, scheduled shredding service or a one-off purge to accommodate a clear-out or annual destruction of old files and data. In either case, we make it easy for you. We will come to your site and collect your old electronic products for secure transport in locked containers back to our state-of-the-art shredding and waste facility.
We can shred and destroy any common storage medium including, hard drives, CDs/DVDs, floppy disks, and flash drives. The remaining equipment is then sorted and prepared for recycling.
Specialist shredding equipment is required to dispose of hard drives given their metal construction. Only a professional disposal company such as IntelliShred is likely to have this equipment, so make sure to choose a company with the right equipment. Note that smashing a hard drive is impressive and may render it temporarily unusable, but this does not destroy the contents. Only trust a specialist electronic destruction company to destroy your digital documents.
Once we have shredded drives down to their component materials, recycling can begin. We do not start the ethical process of recycling materials until the device contents have been 100% destroyed. Our systems and processes are AAA compliant with the National Association for Information Destruction (NAID). From office floor or warehouse to final recycling, your information will be kept secure until it is rendered unrecoverable.
Recycling and Disposal of Electronic Equipment
Electronic equipment tends to have little residual value, but it will include some valuable materials and metals. Some of it is toxic if handled incorrectly or improperly, so it needs to be carefully sorted and recycled. An added benefit of using our professional electronic destruction services is that we take care of all this properly and safely.
You might be pleased to hear that our electronic destruction service extends to cell phones. These devices can contain a lot of sensitive information regarding employees or clients. Don't rely on resetting a phone and throwing it away. Our professional electronic destruction will get the job done, leaving no room for error.
Thankfully, the environmental impact of e-waste is well known now. To minimize this impact, we dispose of e-waste carefully and recycle what we can once we've destroyed the sensitive data. IntelliShred has the systems and equipment to do this day in day out. And we'll provide you with a certificate of destruction to prove that your data has been destroyed properly and to keep your business's reputation intact.
As part of our NAID AAA Certification, IntelliShred only sends waste to certified partners. These partners comply with regulations and the law, avoiding landfill and environmental damage. Our e-waste pick up services help to minimize environmental impact while securing your sensitive and confidential data.
Get in touch today to find out how IntelliShred's electronic destruction services can help keep your business secure.