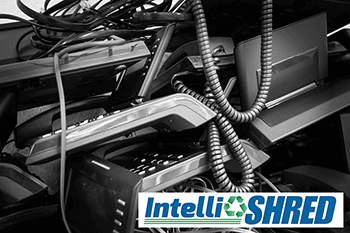 Electronic Shredding
It's no surprise how advanced we've become and how dependent we are on consumer electronics and electrical equipment to maintain our daily lives. New technologies are constantly changing the way we store our information, communicate with each other, conduct business and view entertainment. The average American is said to use an average of 24 electronic products as part of their daily routine. Because of the greater demand for newer and faster electronics, there has been a significant decrease in their life span, resulting in a larger amount of electronic waste or E-waste.
E-waste is something every country must now dispose of – and there are important reasons why it must be handled with care. The average quantity of E-waste generated in developed countries is about 8% of total solid waste. Because E-waste contains toxic components such as lead, cadmium, mercury, and polychiorinated biphenlys, it can be harmful if it's not destroyed or discarded properly.
It is important to also note that about 95 percent of E-waste is recyclable. In order to save valuable components and dispose of hazardous and toxic components, recycling E-waste properly is crucial. Recycling allows for precious metals to be recovered, reduces the manufacturing environmental impact, and makes sure that toxic substances are disposed of properly. It's clear there are many benefits to recycling E-waste, but in the U.S. the E-waste recycling rate is actually lower than it should be, because of a lack of government regulations.
The lack of recycling regulations is continuing to keep electronic shredding and E-waste recycling rates low. In the U.S., only 25 states have built adequate legislation requiring E-waste recycling statewide. The three states with the highest collection volumes of E-waste are Minnesota, Oregon, and Washington.
It's clear that recycling with e-waste pickup can have a positive impact, but recycling that is unregulated could actually inflict more harm onto the environment. There are many companies which do provide safe and effective recycling services, but the majority of them choose to export a portion of their E-waste to unregulated countries like China or Africa.
Alternatives: Electronic Shredding
Of course, there are other alternatives to recycling. Electronic shredding is highly recommended for E-waste because it not only protects sensitive information stored on these devices, it reduces the volume of overall E-waste, so transportation and disposal are more efficient and cost-effective.
Today's electronic shredding companies have state-of-the-art machines which are able to deal with large-scale electronic waste. It's sometimes not even necessary to dismantle these items before they begin the destruction process. Screens, LCD-units and glass panes must be removed manually, but then the rest of the E-waste can go straight into the machines after that.
Many people equate the destruction process only with the destruction of documents, credit card statements or other important papers. However, in order prevent breaches of confidential data and sensitive information, it's necessary to also consider destruction of E-waste with electronic shredding. When companies choose to shred and destroy other information storage devices, they are adding another layer of valuable protection to their armor.
When you hire an electronic shredding service like IntelliShred, we will come to your location for more convenient E-waste destruction. IntelliShred has been helping customers with document shredding and other destruction services for many years. Our team can handle the electronic shredding and disposal of large volumes of E-waste. Contact us today to learn more about our services.