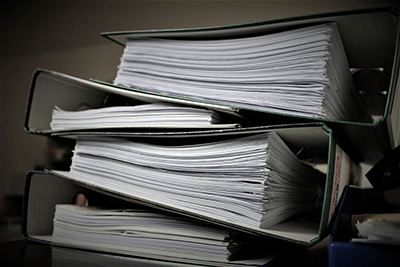 Are you looking for ways to increase the security and privacy of your company? Do you wish there were a way to give yourself more peace of mind that the information on your old documents can't be stolen? If so, then you need to hire file shredding services to meet that demand. However, it's important to find the optimal shredding service to make sure that your documents and the information on them are protected.
See below for a list of benefits that you will receive when you invest in IntelliShred.
1. Positive Client Feedback
If you want to determine whether or not a shredding service can be trusted, there's no better way to get a peek behind the curtain than using references and reviews.
We celebrated our 20th anniversary back in 2019, and have been happily servicing companies of many different sizes and industries during our years of service. Just as our website says, we focus on providing your company with quality, service, security, and integrity.
If you truly want to dig up some information on the shredding service that you're considering, we recommend that you use online reviews, client references, or customer testimonials. For those of you that would like a few references, just ask! We're more than happy to connect you with clients that know our services well. You can also review the customer testimonials on our site or read our online reviews to get the best of feedback around.
We go above and beyond for our clients. We offer document destruction (paper shredding) services, e-waste services, and product destruction services to ensure that your company is protected from the inside and out. Once we learn more about your business model, we can point out how our services can help you enhance your security.
2. Customized Shredding for Your Needs
If there is one thing that we've learned over our years of serving the business community, it's that every company has different needs. Some companies, because of their industry or business model, require a lot more document destruction. Others require it now and then. We can easily accommodate either!
If you'd prefer for us to come around and shred all of your old documentation in bulk, then we offer bulk shredding. It's quick, efficient, and requires no additional work on your end.
If your company regularly produces files and needs them shredded as soon as possible, then we can also set up scheduled shredding. That way, we'll put something on the books for recurring service and help you maintain the amount of documentation that's floating around your place of business.
Whether you realize it or not, you're just as responsible for the protection of your client's identities as they are. If your clientele is trusting you with sensitive information, you need to do your utmost to protect it. Sadly, over 14 million people are victims of identity theft each year. With the right file shredding service, you'll ensure that your clients don't become a statistic.
3. Improves Office Productivity
Do you sometimes find yourself overwhelmed by the clutter and overflow of paperwork in your office space? If so, the odds are that you aren't alone. Believe it or not, that disorganization can take a toll on your employees' productivity.
One survey showed that 54-percent of Americans admit to feeling overwhelmed with clutter. That overwhelmed feeling can quickly lead to stress, which leads to minor productivity for your workforce. That same survey showed that Americans don't know what to do with the clutter and documentation that has piled up. Sound familiar?
IntelliShred can help you boost the production of your staff by removing and shredding any old and useless documentation. Your entire office will feel less cluttered and primed for your business operations each day. Not sure what documentation should or shouldn't be removed? No problem! Give us a call and we'll be happy to point you in the right direction.
4. Thorough Security
How much good does a file shredding service do you if there are still other ways for sensitive information to be stolen? At IntelliShred, we offer several different services to ensure that your information is protected.
For example, while you might shred all of the printed documentation on a contract you signed with a new client, there might be a hard drive with that contract on it. If so, then that information can still be stolen. We have file shredding, product destruction, and e-waste services so that we're able to enhance the security of your company.
5. Latest Shredding Equipment
Perhaps the one paper shredder that your company has isn't cutting it (pun intended) anymore. If you're using outdated shredding equipment, then there might still be ways for thieves to steal the information on your documents.
If you hire IntelliShred, you'll have more peace of mind knowing that your sensitive information is being shredded by the latest shredding equipment. Better yet, you'll have access to the latest and greatest shredding equipment, while also paying less than if you'd purchased the equipment for yourself.
Invest in File Shredding Services for Your Company Today
Now that you have seen all of the benefits of hiring file shredding services for your company, it's time to give IntelliShred a shot.
If you're looking for more information, then you can read this blog article to see how secure shredding services are. For more inquiries, please be sure to reach out via our contact us page and we will be happy to assist you further.