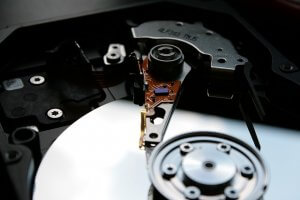 Hard Drive Shredding Equipment Solutions
Suspicious paperwork, printing forbidden files in a company, top secret information in documents – those things always have been easy to destroy. For the paper, just put them in the shredder. But what to do with digitally written information such as CD's, DVD's, hard disc, smartphones and memory sticks?
Thanks to the 21st century technology, there are available hard drive shredding equipment solutions. Our machines ensure total security by physically destroying all the magnetic media.
IntelliShred specializes in hard drive shredding equipment solutions. Our equipment can destroy paper, digital hard drives, metal, plastics, practically anything.
Why Hard Drives Need To Be Physically Destroyed
For individuals, companies and government agencies, the possibility of digital data returning from hard drives can be very risky.
Simply deleting or formatting the hard drive doesn't result in permanent destruction. Information such as banking transactions, pin codes, usernames and passwords, which the old owners believed they had permanently disposed of, can be recovered by those who want to abuse them.
By using a hard drive destruction service that shreds with state-of-the art machinery, it is certain the data on the hard drive cannot be restored ever again.
How Is Restoration Possible?
Namely, each hard drive has a small disc of magnetic material, on which data is physically written. After deletion or formatting, the magnetism remains. Even in some case of significant damage to the hard drive, specialized laboratories will manage to recover the data. Therefore, the process of destroying the hard disk information is not so simple.
Improper destruction can lead to the release of toxic substances, which has a great impact on the natural environment.
Why Use Hard Drive Shredding Equipment
On the other hand, the physical destruction of hard drives through the process of shredding is financially easy. There are also no negative environmental consequences. And finally, the return of the recorded data is absolutely impossible – because simply, the device does not exist anymore.