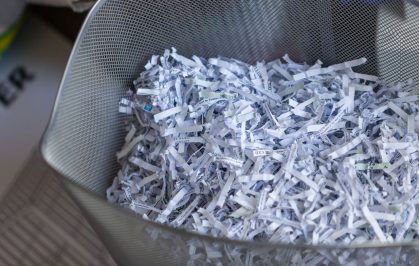 Are you wondering how to dispose of confidential documents the right way? The more data your business creates, the more you need to know how to manage and destroy it properly.  It's your responsibility to protect the privacy of your employees and customers! In 2015, a study found that 48% of hard drives and smartphones and sensitive personal information on them.
Make sure you are disposing of confidential documents the right way. Businesses frequently need to destroy documentation and often according to the law. Otherwise, there are penalties and fines they have to face. Keep reading to learn about how to dispose of confidential documents and why it's so important!
Disposing of Confidential Documents
When it comes to disposing of sensitive documents, sometimes it's tricky to know what to do. Many people get sensitive documents in the mail every day. These documents can be a bank statement, credit card statement, or something similar. If you work for a business, especially a government agency or a law firm, you're likely to come across sensitive information a lot more often. Even more, at least 35 states have laws requiring public and private government entities and businesses to destroy consumer data. So knowing how to dispose of data correctly is a legal requirement!
The first thing you need is to understand what documents have to be disposed of, such as:
Financial records with account numbers

Any legal or medical reports

Anything with a signature

Bank statements, deposit slips, and investment reports

Expired credit cards, ID cards, and pass

Income records

Tax records

Training information
You also have to dispose of any old contracts or telephone numbers. Pre-addressed envelopes, invitations, credit card preapprovals, and thank you notes can be common targets for data thieves.
Data Disposal Techniques
There are many ways to dispose of sensitive information. Let's take a look at some methods you can use, depending on how much data you have to destroy.
Cutting
Cutting is an excellent method to use if you don't have that much data to destroy. You can use a home punch to remove sensitive parts of the document. Then you can cut the rest of the papers into tiny pieces using scissors. The cutting method is pretty tedious though, and you likely won't use this if you have any significant amount of data to destroy.
Burning
If you have a lot of data to destroy and want to get it done quickly, then burning it is an option for you. Burning is a very effective method of eliminating all sensitive data if you do it correctly. Make sure you choose a well-ventilated area that you have access to regularly. There are also local services that will incinerate your confidential documents for a fee.
Water
Water can also be an effective way to destroy your data. If you soak documents in water for long enough, they will eventually become unreadable. If you don't have large volumes of data, you can place documents in a large bin of water. Leave them in the bin for up to a day. Then you can mix it all around until your documents are nothing but unrecognizable wet paper pulp. 
Although this method is very effective and inexpensive, it is also time-consuming and messy.
Shredding Business Documents
If you have a small business, you can choose to do your own business shredding. You can purchase your own paper shredder to use for your business needs. 
When you choose this option, you will have to make sure this is done on a regular basis and you stay compliant with the laws in your state. First, you will need to designate staff to handle this responsibility.  
You will also need to set policies and procedures in place to ensure this is done correctly. You will need to come up with your own method and stick to it. Otherwise deciding to shred or not to shred will take away the focus from your business.
A big downside of office shredders is that they are very messy and require you to take the extra steps of placing them in the trash or recycle bin once you're done shredding. Office shredders also have limited capacity and require frequent maintenance to keep them working right.
Professional Shredding Services
Using a professional shredding service is your best bet for keeping your information secure. A professional company will only allow certified technicians to work with confidential information. A mobile shredding service is a great option for businesses to use. Using a mobile shredding service reduces your security risks greatly.
With a mobile shredding service, you are ensured that all confidential materials are destroyed on your own premises. Mobile shredding services are bonded and use mobile shredding trucks that use state-of-the-art technology. The best part is you will be provided with a certificate of destruction that you will be able to keep on file.
Nowadays, the destruction of documents can even be recorded on video, so you have added security to all the necessary steps required by law.
How to Dispose of Confidential Documents
If you're wondering how to dispose of confidential documents, then the professionals at IntelliShred can help you! IntelliShred provides shredding, destruction, and recycling services to people in the New Jersey, New York, and Pennsylvania areas.
Stay compliant with the law and keep yourself protected. You want your business to stay in business. Make sure to contact us today. We will help you get started!