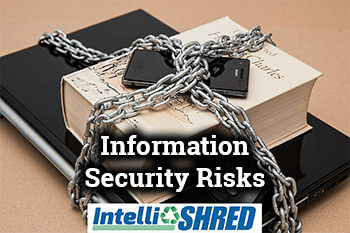 Information Security Risks
There are many risks a company could face over its lifespan. The most dangerous risks include an information security breach, corporate identity theft, or the stealing of trade secrets and proprietary data. Managing confidential or sensitive information is necessary for every business to succeed. Identity theft, security breaches and the potential disclosure of proprietary information are all threats that most businesses may not easily overcome.
It's essential that all businesses, manage the destruction and disposal of documents and digital storage devices in order to avoid facing these risks. Although this could happen to any type or size business, the sectors that are the most at risk for information security issues are: Financial, Healthcare, Educational, and Government.
It's crucial for every organization to put an information security policy in place. As part of this policy, there should be regular communication sent to your employees to help them follow the confidential information disposal practices you have implemented.
Here are four ways your company can avoid facing information security risks:
Shred and destroy confidential information regularly.
There's a variety of confidential and proprietary information that every company must retain. Everything from product prototypes, price lists, and customer data, to client proposals, email lists, research data. If this information is not reviewed regularly and destroyed, your business could face horrible consequences. It's best to implement a regular business records retention schedule throughout the year so that you may be able to avoid any risk of theft.
Review your business records every quarter.
It's best to have a regular review of your business records so that any information that can be disposed of is identified quickly and then shredded and destroyed. Thieves will look for all kinds of documents, and whatever important information they can get their hands on. If sensitive information is not disposed of properly, there is increased risk of liability for your company.
Do not recycle any confidential information.
Although recycling is an honorable thing, some recycling companies do not properly screen their employees. The environment in which they work is not always monitored effectively, so there is room for theft. Recycled paper customers may not receive their order right away and your sensitive documents could be sitting in a warehouse for weeks or months.
Make sure you hire the best shredding and destruction service.
Choosing a document destruction company can be challenging, but it's easier if you know what to look for. It's best to hire a service which provides a certificate of destruction – this gives you peace of mind that your business is in compliance. Be sure to find a certified professional who's is also accredited by the NAID (National Association for Information Destruction). That way, if an identity theft case ever surfaces, your business will not be held liable.
Hiring a professional shredding service will definitely help you avoid information security risks. If you put a regular shredding/destruction process in place, your business will be protected. IntelliShred has been helping businesses do just that for over two decades. We have been awarded the highest security rating, "AAA Certified" by the National Association for Information Destruction (NAID). Contact us today to find out more information on how we can assist you.