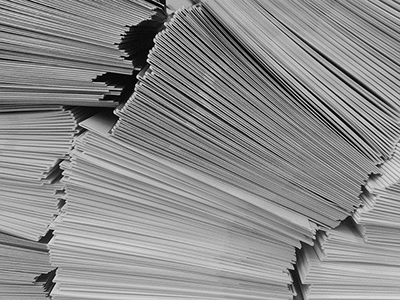 An average office will use thousands of copy paper every year. From financial reports to employee data and performance reviews, you want to ensure that all that confidential information is destroyed in a safe, secure and reliable manner. As part of a company's waste management plan, the one-time shredding service allows safe destruction of paperwork and electronic documents that are no longer needed.
The one-time service can be scheduled annually or whenever there is a lot of paper to destroy. At IntelliShred, we cater to all your one-time purge shredding needs in New Jersey, New York and Pennsylvania with quick, efficient and secure services right at your premises. You can supervise the process for a guarantee that the documents have been appropriately destroyed or are in a non-recoverable state. Off-site shredding services are also available, where documents are transported to a secure off-site facility for shredding.
When Should One-Time Shredding Services Be Carried Out?
An organization may make purge shredding a yearly or quarterly service. However, the service can be requested anytime there is too much paperwork to shred and it's not feasible to do it all on your own.
Additionally, when moving to a new location, it's advisable to get rid of anything you won't use in the new site. When companies merge or change operations, previous documents become obsolete and it wouldn't make sense to hold on to them.
How is a One-Time Shredding Service Beneficial to an Organization?
It's Economic Friendly
You only request the service when you need it. If you usually get rid of clutter at the end of the year, you only allocate a budget for the service once.
Think of the amount of time your employees would use everyday shredding documents. If you converted this to pay per hour, the amount would be substantial. Further, you don't need to invest in proper shredding equipment that can be costly to acquire and maintain.
Fast and Convenient
It can take months to purge dozens of unwanted paper documents manually. Even still, it may not be possible to shred to a point where they cannot be recovered unless done by appropriate shredding equipment. The one-time shredding services properly destroy your critical documents with ease and convenience.
Less Clutter
It's easier to manage information when you have a system that gets rid of whatever is no longer needed. Past files can take up a lot of space that could otherwise be used to store more meaningful paperwork.
Helps Avoid Identity Theft
You may have vital information in the documents you no longer use. If malicious individuals get access to the data, you may end up losing credibility with your clients or result in company theft or fraud. To be more in control of information at your company, always use a one-time shredding service.
Helps Keep Up with the Government's Purging Regulations
Government entities all over the USA have strict regulations concerning the collection, use, storage and disposal of confidential information. According to privacy laws in many states, you cannot manually shred and throw sensitive files into a dustbin. You need an evidence-backed process that is safe and federally approved.
Professional shredders perform the duty and hand you a Certificate of Destruction to support the fact that all documents have been safely destroyed. You may be required to provide this document to the authorities as further proof that you comply with the set guidelines, failure to which you may be subjected to hefty fines or penalties.
Reduces Human Error at the Workplace
Keeping a large amount of paperwork can result in cluttered spaces and overcrowded storage systems. Chances of documents strewing all over the place or mixing up are pretty high. This can lead to human error which can be costly to the company. For instance, an employee can use the wrong documents because the office lacks a proper filing system. Getting rid of any paperwork that's not needed can boost the maintenance of storage systems, reducing error rate and increasing productivity. The human mind also works better in a calm, organized and clean environment.
You're Assured of an Environmental Friendly Process
After destroying the documents, the next primary concern is how to best dispose of the trash. If you shred the documents at your office, you may have to look for a recycling company to pick the waste or improvise ways of disposing of it, which might not be environmentally friendly. With a professional service shredding service, you take care of everything at once. The shredded waste is conveniently and safely recycled to ensure a clean environment with less wastage of resources.
Improved Productivity
Your office shredding machine is most likely designed to shred one if not a couple of document at a time. It also can be laborious to remove staples and paper clips, straighten the documents and shred a little at a time. Your employees could be using a considerable amount of time just trying to get rid of unwanted documents rather than focusing on important office business.
To avoid this, have a proper document management system that securely keeps documents and prevents them from being mishandled or lost and whenever it's appropriate, have the one-time shredding service take care of your shredding needs.
Assurance that Sensitive Information is Properly Disposed
If you have security concerns, you can request the shredding company for an onsite purging. With this, you can supervise the collection of the waste and the consequent destruction. A professional shredding company will have onboard comprehensive security controls to monitor the entire process. This enables you to indirectly supervise the process and have the surety that the exercise was carried out successfully.
Ultimately, a one-time shredding service is vital for the proper disposal of a company's waste. Most importantly, choose a technology-savvy service provider that's committed to offering fast, secure and reliable services.
At IntelliShred, we analyze your waste disposal needs and requests and suggest appropriate solutions that meet your specification and schedule. We also ensure that you're in complete control of the whole process from when we pick up the documents to transportation and destruction. Contact us today to request a quote or learn more about our one-time purge shredding service.