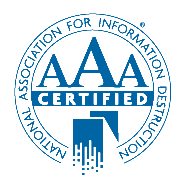 NAID Certified Shredding
With internet fraud and identity threats on an upsurge, data security and privacy are getting more complicated. A 2018 study says that the average cost of confidential records being stolen or lost is around $148 per record, and more than $3.86 million is spent on each data breach incident globally.
When it comes to selecting an appropriate paper shredding company to look after your document destruction needs, it's crucial to consider the provider's background credentials. How long have they been in the paper shredding industry? Are they associated with key groups or organizations that are relevant to their services? Most importantly, are they a NAID certified shredding company?
What does NAID certified shredding mean? What is NAID and what does it represent? NAID is the international trade association for the information destruction industry. It's  purpose is to help and promote the highest standards of ethics for the document destruction industry, through partnering with its members and lawmakers to ensure that happens. Selecting the right shredding company is the first step in making sure your documents are secure.
What Does the NAID Certification Entail?
Now that you know what is NAID-certified shredding, let's delve deeper to learn more about the certification process and details. Being AAA certified means a document shredding company meets stringent qualifications for secure data destruction. 
The certification covers 20 operational and security areas, including video surveillance, transport, particle size, employee screening, written policies, access control, and training. Its primary objectives are:
Verifying that the company follows protocols specified for the security of confidential information throughout the destruction stages, starting from handling to storing before destruction, shredding, and disposing of shredded documents

Assuring a 3-step background screening process restricting any individual with a known criminal history from handling confidential data

Implementing a comprehensive and regimented audit program ensures that certified companies can receive an unannounced audit anytime or any day without prior notice
What does a NAID Certified Shredding Company Promise to its Customers?
Random criminal background checks on all employees prior to hiring

Drug-testing during pre-employment process and random drug screening for all employees

A certified document that thoroughly indicates sensitive documents have been shred 100%. (Certificate of Destruction)

$3,000,000 general liability insurance

Professional personnel in uniform with visible photo ID badges

Comprehensive security policies in place with strict safety procedures every step of the way

All staff must sign a Confidentiality and Non-Disclosure Agreement
Why does NAID Certified Shredding Matter for Your Security?
Every organization needs to comply with contractual and legal obligations to protect sensitive data from identity thefts and cyber threats. Understanding what is NAID-certified shredding and choosing an AAA certified company can make your business secure and reliable in many ways. Here, they are:
Assured Privacy Compliance
Security is incomparable; a NAID certified shredding company like IntelliShred, must follow over 20 specific requirements in regards to security and operational necessities; these include access control, transport, video surveillance, and employee screening
Since documents will be destroyed with a cross-cut shredding process, the paper particle size is too small to reassemble the same or save the information.
Certified Data Destruction
Apart from meeting the compliance requirements, a NAID certified shredding company also provides a Certificate of Destruction to prove the same.
The confidentiality of your business documents is vital; businesses who are not NAID Certified may be practicing habits that fail to meet legal privacy standards; therefore your business may be at risk
Safe Disposal
Before shredding, the documents are stored in closed containers to prevent unauthorized access. A secure wipe standard is followed to make electronic data unrecoverable. After shredding or pulping the documents, the company will dispose of them according to FACTA Final Disposal Rule and PCI compliance guidelines.
Peace of Mind
NAID-certified shredding company can offer you the peace of mind that your paperwork will not leave behind any legal trail or audit issues.

NAID certified shredding companies experience audits to confirm sustainable consumer protection measures are in place. 
We Keep Your Business Safe
By hiring IntelliShred to look after your commercial document shredding needs, you can rest assured that your information is in the best hands. Our procedures follow the highest security standards in the industry and most importantly, abide with specifications outlined under NAID. Contact IntelliShred in New Jersey for further details in regards to the unique paper shredding services we offer. Call 1-866-747-3360.