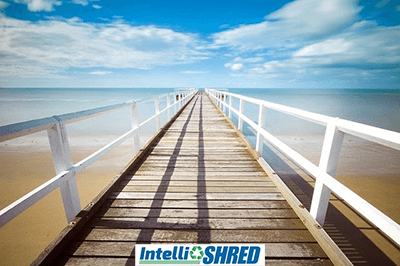 If you are in Ocean County and need to fulfill your data protection commitments, don't forget to focus on the security of paper as well as electronic devices. While you may have firewalls, encryption, and other reliable electronic security methods, too many firms neglect the security of printed documents. Fortunately, we are here to make sure that this is not an avenue for criminals to access your firm or your customers' data.
Our Ocean County paper shredding services ensure that your business can keep operating securely. Whether you need to destroy confidential information because you are relocating or because of regulatory reasons, you can rely on our 20 years of experience in document destruction. Look to us for the highest standards and peace of mind for you, your staff, and your clients.
Our Paper Shredding Services In Ocean County
Criminals are looking for businesses that are careless with private information. While there is an increased focus on electronic security, we must not take our eyes away from what happens to confidential data on paper. Misplaced or stolen documents can lead to fraud and identity theft.
And not only big businesses are at risk from criminals' efforts to steal data. Small businesses that may have a more modest budget for security are often seen as gateways to their larger business partners. If you have confidential data on paper, you require confidential data destruction. Our Ocean County paper shredding services can help maintain the integrity of your business.
By working with us, you will discover that secure, paper shredding needn't be prohibitively expensive. We have a range of services available. And we are happy to discuss them with you so that you can get just what you need to keep your business on the right side of the law.
Why Choose Our Paper Shredding Firm?
At IntelliShred, we provide comprehensive document destruction, among other high-quality services. When we have destroyed your documents, we will provide you with a document to certify the act in accordance with data protection guidelines. This document can be useful for earning or maintaining your clients' trust, and it may be useful for regulators.
We provide a service that means our personnel comes to you. Instead of risking the transport of documents to a secure location, we can shred your paper on-site. In this case, your staff would place documents to be shredded in one of our secure containers. On the scheduled day, our staff will arrive to empty the containers.
Unlike other security firms, we will not have to take your documents from your location to secure them. We avoid this step where possible because it can add unnecessary risk and complexity. Instead, we can begin paper shredding at your Ocean County location. And we invite you to look on as we destroy your documents, which is made possible via CCTV.
Customized Ocean County Paper Shredding
We are here to provide the secure document destruction and disposal that you need. You can take advantage of our one-time shredding service or regular shredding. We have the equipment, staff, and expertise to handle any of your document destruction needs.
One-time shredding – also known as purge shredding, this service is for clients who require urgent or occasional shredding. You may need this due to a change in the law, to maintain secrecy regarding proprietary information, or to create physical space. Whatever the reason, we can help you achieve your goals.
Regular shredding – many businesses use sensitive information everyday and frequently generate confidential documents. These papers need to be secured and destroyed appropriately. Our regular service – bi-weekly, weekly, or monthly – can help maintain your business's organization, security, and legality.
Please get in touch with us to experience the peace of mind you get from our prompt and professional service. To get the job done right with a flexible approach and a fair quote, please call us to discuss your needs.