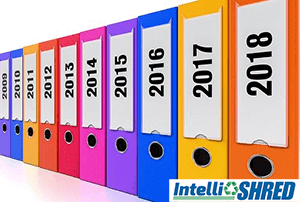 There are so many challenges companies may have to overcome these days – facing identity theft should not be one of them. The most effective way to protect individuals and businesses from theft is to hire a professional document disposal company to shred and destroy any confidential information.
Corporate identity theft can easily occur in the following ways:
Unprotected documents stolen from work by employees or staff
Data breaches and digital theft due to lack of cybersecurity protection and firewalls
Pickpocketing wallets, checkbooks, stolen paper mail from unlocked offices or desks
Confidential information directly taken from the trash or recycle bin
You are required by law to dispose of all of your documents properly. States have set up specific laws about what information needs to be removed from the file before you can dispose of it. You need to either black out all personal information, including social security numbers, account numbers, names, addresses and phone numbers or you need to shred the documents.
These are the key privacy regulations you need to be familiar with:
The Health Insurance Portability and Accountability Act (HIPAA) This law requires that healthcare industry professionals responsibly shred discarded patient information
The Fair and Accurate Credit Transaction Act (FACTA) of 2003 was established to help reduce the risk of identity theft by requiring responsible shredding of discarded customer information
The Gramm-Leach-Bliley Act (GLBA) This law requires banking and financial institutions to consistently protect the privacy of consumer data.
It's essential for your business to establish a document disposal process. Train your employees so they have a good understanding of how you wish to manage document destruction and disposal. There are several state and federal laws which insist that you safeguard private information for your employees and customers. In order to remain compliant with these regulations, you must frequently destroy confidential and obsolete business information. It's best to schedule a specific time each year or each quarter to sort through your documents in order to determine which ones should be destroyed.
Having a process in place helps you organize your current documents when it's time to dispose of them. It's key to have a good understanding of which documents you should permanently keep in your office, which ones need to go into storage, and which ones you can dispose of. For instance, if you have used the document or file in the last six months, you should keep it. Old business contracts and legal documents can be stored in a locked office or cabinet on-site. It's absolutely crucial that medical records should be kept longer than a sales projections and other files. Old hard drives should also be properly destroyed, which can be achieved through on site hard drive destruction services.
Hiring A Document Disposal Company
When you hire a professional document disposal company, be sure they are certified by the NAID and that they have trained their technicians at the highest level of proficiency. When you shred on-site, a Certificate of Destruction should be provided by your document disposal company once the job is complete. This is proof that your sensitive documents were completely destroyed using proper methods, according to the highest standards in the industry.
IntelliShred has been servicing the tri-state area for over two decades. We hire only the best technicians for our shredding and destruction teams and we pride ourselves on how dedicated they are. Our customers continue to shred with us again, and again and we're happy that they know we'll help them relieve the burden and stress that comes with this important task. As part of our services, we will:
Protect Your Confidential Information
Ensure Compliance with HIPAA, GLB & FACTA
Provide High Security On-Site Shredding
Offer Flexible Scheduling
Save you money – our regularly scheduled shredding service costs less than $2.00/day!
Contact us today for more information on our services. We're happy to answer your questions!