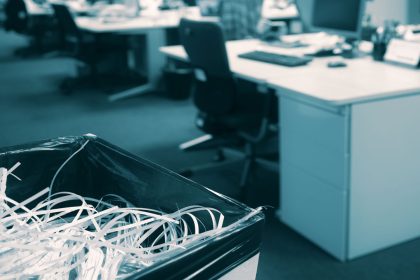 Do you need professional and secure on-site shredding in Union County, NJ? It's important to dispose of company documents to prevent sensitive information from ending up in the wrong hands. In some cases, you may even find yourself in legal trouble if you don't properly dispose of these papers.
Choosing the right paper shredding services can help put your mind at ease. Read on to learn more about why you should use paper shredding services, how to find reputable paper shredding companies, and why it matters.
Why Your Company Needs Paper Shredding Services
Simply throwing files and documents away puts your employees, customers, and patients at risk of identity theft. Thieves often go through a businesses' trash hoping to find names, personal information, and social security numbers they can use to commit fraud and scams.
In 2020 alone, 47% of Americans became victims of financial identity theft. Don't let your company be the cause of this major issue. Also, you could find yourself in hot water if you don't follow legal requirements concerning the safe handling of data.
Staying HIPAA Compliant
According to the Health Insurance Portability and Accountability Act (HIPAA), any and all healthcare must regularly destroy documents that have information about a person's medical history. Companies with copies of these documents should shred them regularly to prevent the information from falling into the wrong hands. In addition, the Privacy Rule means that businesses with this information need to make and enforce technical, administrative, and physical safeguards. These safeguards must protect a patient's health information.
Information you should shred includes files with the following:
Papers with social security numbers

Names and addresses

Documents with birth dates

X-rays and photographs
Staying HIPAA compliant isn't always easy, but failing to do so can result in hefty fines. Thankfully, bulk paper shredding through a reputable and professional company helps you stay compliant and avoid any expensive fees and fines.
Saves Time
Using an on-site paper shredding service saves you time. You don't have to manually destroy documents. Small paper shredders aren't efficient for businesses, and shredding a few papers at a time means the job could take hours or longer to complete. Besides, you'll likely accumulate documents that you need to shred much faster than you can shred on your own.
Frees Space in the Office
Holding onto documents in need of shredding takes up a lot of space. It's all too easy to accumulate documents you no longer need and store them in a back room, spare office, or other location.
Not only does this take up space in your building, but these files may not be completely secure. Someone may walk into the room and take any files they wish. Destroying these papers is easy when you use a company that offers secure shredding services.
Keep Data Away From Competitors
Corporate espionage is a very real issue that can result in your competitors stealing ideas and data. Both small businesses and large ones can fall victim to corporate espionage. If a competitor steals your idea before you can capitalize on it, you might lose out on major opportunities. Shredding documents containing plans, designs, drafts, and other information safeguards your intellectual property.
How on-Site Paper Shredding Works
On-site paper shredding is convenient, easy to set up, and provides a secure way of disposing of papers and files. You don't need to pay anything extra to transport documents anywhere as everything takes place on-premises. You and your staff can continue to work uninterrupted. Plus, you can rest easy knowing the shredded documents are completely irrecoverable.
At IntelliShred, we offer two options for secure shredding: one-time shredding and scheduled shredding services.
The process starts with secure containers that vastly minimize the risk of unauthorized employees accessing those documents. On-site shredding means the files are destroyed in front of you, so you can gain maximum peace of mind. At the end of the process, you'll receive a Certificate of Destruction. This outlines how many papers were destroyed and confirms they were shredded in a secure manner. It's that easy. Here are some differences between our one-time shredding and scheduled shredding services.
Purge Shredding
Our purge shredding service is a one-time circumstance. This option is best for companies that need to dispose of larger volumes of papers with sensitive information, especially if it's an urgent situation. Many businesses that haven't used on-site shredding before and have a lot of accumulated files in storage choose this option.
Examples of when to schedule this service include annual cleanups and circumstances that result in relocation or consolidation. Smaller businesses and companies that don't deal with medical records may choose to go this route.
Scheduled Services
Larger companies and businesses that need to destroy large volumes of documents containing confidential information would benefit most from our scheduled services. If papers in need of shredding pile up faster than you can destroy them on your own, this is the option for you.
We'll start by assessing your current need and then set up a maintenance plan. This could be a weekly, twice weekly, or monthly service. An IntelliShred professional will collect the secure container and shred the documents in one of our mobile shredding trucks. You can watch the entire process. Once the process is over, you'll receive a Certificate of Destruction as proof.
On-Site Shredding in Union County
Paper shredding benefits your company by securely disposing of documents you no longer need and must destroy. Rather than do it yourself, you can rely on the professionals at IntelliShred to handle the process for you. We guarantee your documents will be 100% irrecoverable.
If you're in need of on-site shredding in Union County, NJ, leave it to us. Send us a message today so we can go over your options and answer any questions you may have.