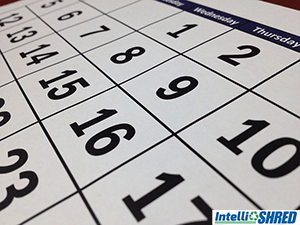 Today's companies could overlook certain tasks when they are busy with more important matters. Shredding confidential and sensitive information in a timely manner may be one of those tasks that fall by the wayside. In order to avoid the risk of identity theft or breaches of data, it's wise to shred and destroy documents and hard drives that are no longer necessary.
Of course, all businesses collect sensitive information from their customers, partners and employees. Most records today are digitally stored, but there are some which must remain on paper. Businesses are aware sometimes keeping documents for long periods of time, when it's not necessary. There's an easy solution to this urgent problem – hire a professional shredding service and request same day shredding.
Here are some of the main benefits of hiring a same day shredding service:
CONVENIENCE & COMPLIANCE: When you request a same day shredding job, a mobile shredding truck will come to your office and perform the shred on-site. There's nothing more convenient than secure on site shredding. There are strict privacy regulations that government agencies, large businesses, and corporations must abide by. Not remaining in compliance could significantly increase the risks of fines against the company. The technicians will provide you with a Certificate of Destruction which proves the job was handled in accordance to the federal and state privacy regulations.
COST SAVINGS: Using a small office shredder is not efficient and you will spend way more money to maintain the machine than its original cost. Hiring a professional shredding service will help you dispose of important information in a more cost-effective and secure way. Selecting a service that is reliable and secure will be essential, but it's even better if you can find one that offers same day shredding services.
SAFETY & SECURITY: In order to protect your company from identity theft and data breaches, it's best to leave your shredding jobs to a professional. Mobile shredding trucks can instantly eliminate the risk of information being reconstructed. Right before your eyes it's adequately destroyed and the truck will provide documentation for every shred they do.
When you hire a same day shredding service, their trucks will come to your location for more convenient document destruction. Most of these services are mobile, and their mobility allows them to do the work more efficiently and securely. The remaining waste should also be handled in a secure manner so that there is no risk of identity theft or costly fines.
Every business should understand that hiring a professional shredding service will not only protect sensitive data and ensure regulatory compliance, it will also help reduce costs over time. The significant cost savings is more valuable than you can imagine.
For years, IntelliShred has been providing 24-hour and same day shredding and destruction services for its customers. We value our customers and can guarantee a successful business relationship. Our fleet of mobile trucks will be able to handle the destruction and disposal of large volumes of paper, hard drives and other digital media storage devices. Contact us today to learn more about our services.