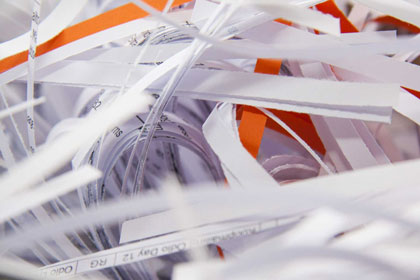 Shredder Service
Today's businesses can be at risk if they don't properly handle the destruction of important, sensitive or proprietary information. To keep customer and employee information secure, a shredder service is the best solution.
It's essential to keep your company's documents and client's documents safe and a shredder service is an effective way to do that. Confidentiality and customer data security are high on most businesses' agendas. Especially, when it comes to digital storage but sometimes printed documentation doesn't get the secure treatment it deserves. 
Ensure you comply with confidentiality and data security recommendations with a dedicated shredding service. 
Identity Theft Protection
To protect your customers from identity theft and keep all your company data secure you should shred any documents which contain the following.
Names

Phone numbers

Addresses

Dates of Birth

PINs

Email addresses

Banking information

Credit history
Paper Shredding
Does your business conform to HIPAA compliance? If not, you could be breaking the law. Ensure you understand the guidelines and can follow them. 
The law requires that documents that contain customer data are 100% destroyed to protect their privacy and keep them safe. 
A shredding service provider adheres to the strictest processes to ensure that all the data on the documents they destroy are securely disposed of. After destroying the documents they also issue a certificate of destruction which is admissible as evidence of HIPAA compliance.
Protect Your Company's IP 
Your company's intellectual property could be at risk if important documents about projects and innovation reach your competitors. As well as keeping your customer's or clients' information safe, shredding services can also help to protect your business information.
Here are a few document types that should be kept strictly confidential to keep your business IP safe. 
Trade secrets and information relating to share price

Internal correspondence

Proposals

Financial records

Meeting notes

Acquisition plans

Supplier and customer information
All of these types of documents should be disposed of very carefully. 
An Environmentally Friendly Solution
Businesses are increasingly investing in corporate social responsibility (CSR) policies including increased sustainability and environmentally friendly solutions. This means there has been an uptick in paper recycling. 
However, recycling paper which contains sensitive data is much more difficult, and sitting by a shredding machine and manually shredding documents is a time-intensive manual job that busy office workers cannot afford to incorporate into their workdays. 
That's where shredding services can shine. Businesses like ours can collect your sensitive data, shred it and recycle it, helping your company to meet sustainability and environmental goals without taking any extra time away from your employees' busy schedules. 
Businesses should know what documents and other information storage items need to be destroyed.  Here's a basic list to get you started:
Employee Information:
Contact Information (Email address and phone numbers)

Employment Information

Health Documents

Contracts

Resumes
Customer Information
Account Numbers

Credit history reports

Purchase orders

Invoices
Legal and Financial Information
Account Statements

Budgets

Leases and or rental contracts

Sales forecasts

Confidentiality agreements

Product information

Design documentation

Patents
The best way to keep your company, employee, and client information secure is to hire a corporate document shredding service. These companies will efficiently destroy documents, discs and other items which contain private information.
Another reason to hire a shredder service to dispose of your sensitive documents is to protect your competitive edge. If, for instance, something as simple as even a patent application fell into unscrupulous hands, it could cost your company untold amounts of money.
Identity theft is a huge concern for all types of companies. There are new laws in place which could hold your company liable if an identity theft victim was compromised by sensitive information that was mishandled or not properly destroyed.
Explore All Our Shredder Service Benefits
We hope this article helped you to decide whether a shredder service would be right for you. Are you wondering: is there a shredder service near me? Our shredding services are flexible and we can do a one-time bulk shred or come regularly to collect anything that needs to be disposed of.  IntelliShred has years of expertise providing comprehensive shredding services. Contact us today to learn more about how our shredder service can help protect your company's information.