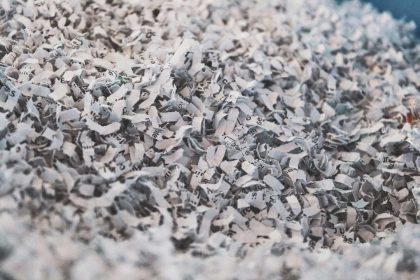 Mobile Paper Shredding Service
Is your New Jersey business thinking about a professional shredding service? While considering the shredding solutions available to you, remember that there are two very distinct methods of paper shredding offered by a professional product destruction company; mobile onsite shredding, and offsite plant-based shredding. At IntelliShred in New Jersey customers can benefit from the convenience of our efficient mobile paper shredding service for the destruction of sensitive documents.
Safeguarding sensitive information is a must for any business. While many of us have sufficient cybersecurity measures, you also want efficient physical security. That includes the safest ways for discarding paper documentation. Hospitals, for example, are often victims of breaches via attacks on their paper and film archives.
Hard copies continue to put information at risk. Mobile document shredding services minimize this data breach threat. The best shredders use sophisticated and compliant means of disposal for both paper and hardware. The best service understands the security protocols of your industry and company, as well as privacy laws and eco-friendly procedures.
A mobile paper shredding service that has these (and the following) characteristics ensures your sensitive information is with a provider you can trust.
Our mobile document shredding trucks will arrive on-site to your business where a representative from IntelliShred will proceed to shred your confidential material right before your eyes. Simply contact our office to arrange a suitable one-time pick-up service. Another service option our customers may choose to take advantage of is ongoing, regularly scheduled paper shredding services. Leave the rest to our qualified team!
How does our mobile paper shredding service contribute to better and safer business procedures? Here are some key benefits when considering partnering with IntelliShred:
It's Easy:  Why move endless piles of papers to an off-site location when you can have your sensitive papers shred right on your premises without having to go anywhere! That means little interruption in your workday, and no inconvenient trips.
Lockable Shred Bins: At IntelliShred we will provide you with secure, lockable bins to for storing all confidential material in prior to destruction. Place these throughout your office in high-traffic areas, as required.
Certificate of Destruction: Following each shred appointment, IntelliShred will present you with certified documentation that indicates your documents have been destroyed securely, and in accordance with state privacy laws.
Irrecoverable: Our state-of-the-art mobile shred trucks are designed with the security and quality necessary to ensure your confidential material is irrecoverable. All shred equipment consists of industry leading components, which allow us to shred in seconds what make take hours with an office shredder.
Cost–Effective: When you allow IntelliShred to provide you with reliable shredding services, you receive the best possible service and value for your money. We'll work with you to customize a paper shredding program that speaks to your budget and unique needs.
Witness the Destruction Process: We invite staff members to witness the destruction process from start to finish directly from your parking lot. Viewing the shredding process helps to provide additional peace of mind that your information has in fact been thoroughly destroyed.
Compliance: Every industry has privacy and security regulations. Your mobile shredding company needs a grasp of what applies to your business and the significance of those guidelines.
Experience and Education
Your shredding service, knowing the nature of the business, understands their staff has to be trustworthy and skilled. Ask about how the company vets employees. Get a handle on the shredder's ties to the community.
NAID® AAA Certification
Information security entails knowing and following best practices. NAID® is a standard in data destruction and offers certifications to companies that want a badge to show clients and customers.
Secure Shredding
Document disposal requires a chain of custody. It goes from collection to destruction. This entails placing sensitive materials in a secure console or bin. The process moves on to destroying those materials. The production promises limited access to the equipment and materials throughout the process.
Destruction Certificates
After completing the job, reputable shredding services prepare a certificate of destruction. The document proves materials were properly disposed of per best security practices and applicable compliance laws.
Mobility & Ease of Use
With a mobile paper shredding service, you can have on- or off-site service, whichever works best for your operation. On-site production helps limit document movement and gives staff visibility to the process. But off-site might be the better option if you have remote employees or lack the space to manage the production. You can have one-time or regularly scheduled shredding.
Disposal of Various Materials
Depending on the business, you may need a solution with the capacity to manage various types of materials. That's paper, binders, folders, proprietary instruments, or digital media like HDs and disks.
Waste Recycling
Mismanagement of waste has an impact on our ecosystems, especially if there are electronics and hard drives involved. The shredding service should responsibly recycle waste. Green services help boost not just the environment but corporate responsibility and sustainability.
Transparent Pricing
Prices should be competitive and affordable across the industry and region. Keep an eye out for hidden fees. Stuff like fuel surcharges, console delivery charges, environmental fees and even parking can pop up. Discuss customer loyalty programs and other ways to save money.
Any mobile paper shredding service that can meet these traits alongside the personal standards you want for your business, trust you've found a keeper. Good recycling practices, no surcharges or hidden fees, eco-responsibility and more all have to be part of your mobile shredding agenda.
IntelliShred offers a matchless document destruction service throughout New Jersey that ultimately help to protect your brand, company, and customers. Maintaining your security is our number one priority!
Please contact us today for more information on our mobile paper shredding service, or to schedule a pick-up service call 1-866-747-3360