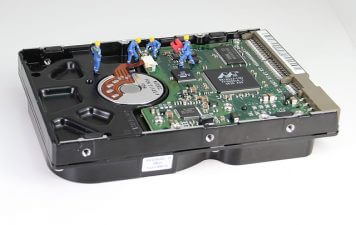 Hard Drive Destruction
In today's information age, more and more businesses are storing their sensitive and proprietary information on hard drives. However, keeping that information safe is not as easy as you may think. To avoid any breach of security that could result in theft of confidential information, hard drive destruction is necessary.
Every business has a duty to protect confidential information and highly sensitive data safe. Whether it's emails, invoices, proprietary data, client contact information, budgetary numbers or other internal documents, it's essential to protect it from getting into the wrong hands.
It's not enough to erase data from hard drives. Simply erasing information from a hard drive will not eliminate it from being accessed by an expert in information retrieval. The only way to ensure your sensitive information can't be accessed is to use a secure hard drive destruction service.
No matter the type of business you're in, law firms, medical facilities, educational institutions, even a small business, it's crucial to shred confidential data and be compliant with privacy regulations. Obtaining a certificate of destruction post shredding is the final step for full compliance with privacy laws like HIPAA, HITECH, FACTA and GLBA.
Intellishred provides hard drive destruction and mobile shredding services. Our state of the art mobile shredding and destruction trucks come directly to your location and destroy your hard drives and other materials on site.
We guarantee your hard drives are properly destroyed before being discarded. Because we're also committed to saving the environment, we will deliver destroyed materials to the proper metal and electronics recycling center.
The National Association for Information Destruction (NAID), is a trade organization which provides a voluntary certification program for member companies that provide information destruction services. Intellishred has earned the NAID's AAA Certification and we only send electronic waste to certified recycling partners that comply with federal and state regulations.
We're happy to serve our customers – contact us today for more information on our services.