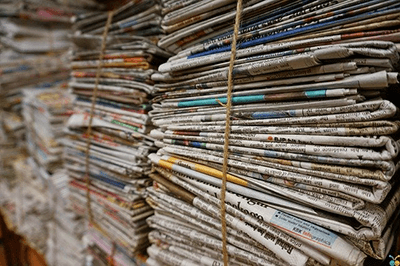 We hear a lot about online identity theft and fraud in the news, but did you know that non-digital theft is more common? More than half of consumer identity data theft in the U.S. is analog, which means the perpetrator accessed paperwork or another physical item that contained sensitive information.
That's why IntelliShred is proud to offer mobile shredding services to residential customers throughout New York, New Jersey, and Pennsylvania in addition to serving our corporate customers. Read on to learn about the benefits of hiring our residential shredding service and why it's a more secure option than shredding documents yourself at home.
How Our Residential Mobile Shredding Service Works
From old tax reports to bank statements, there are all kinds of documents that can bring harm to you if they fall into the hands of the wrong person. Shredding these documents and disposing of them securely takes time. Your home shredder may not be equipped to break down documents into very small pieces or have the ability to shred non-paper materials such as credit cards and microfilm.
ItelliShred makes disposing of sensitive documents stress-free. First, you contact us for a quote and let us know what types of materials you wish to have shredded. We'll then schedule a time and come directly to your residence.
We place your documents directly into one of our locked security bins, so our staff never see nor touch them. The bin is then lifted automatically into the truck and the materials are emptied directly into the shredder. They are destroyed immediately. You can watch the entire process live via a TV monitor we have in our vehicles. Afterward, we take away the shredded material to be recycled responsively.
We are also operating our business in compliance with recommended COVID-19 guidelines, which means our employees maintain social distancing at all times. You may leave your materials to be shredded outside your front door to ensure a no-contact service.
Why Should I Hire a Mobile Shredding Service If I Have a Shredder?
You may be wondering why you should hire a mobile shredding service if you own a home shredder. Can't they shred sensitive documents just as effectively? Not necessarily.
Many home shredders are strip-cut shredders, which means they cut documents in one direction which turns them into strips. This means theoretically that anyone could piece together the strips to read the data on it. The strips are also wide enough that numbers and other bits of data are still visible on them. Many people then dispose of these strips in their trash where they can be picked through and put back together by anybody.
IntelliShred's equipment uses a cross-cut shredding mechanism that cuts a document in two directions to break it down into smaller particles. In fact, cross-cut shredders cut a single piece of paper into 400+ confetti-like pieces. This in itself provides added security that your documents cannot be reconstructed.
However, we don't dispose of your shredding material in the trash. We recycle it to give you peace of mind that no one else will see it, and that it's helping the environment. We've been awarded AAA certification by the National Association for Information Destruction (NAID) which is the highest security rating a data destruction company can hold.
You can hire us for a one-time shredding service or regularly scheduled service. The latter can be particularly useful if you're working from home and have sensitive company documents to dispose of or run a business out of your home.
What We Shred
Another added benefit of hiring us to shred your sensitive material is that can we shred so much more than just paper. Here's a partial list of what our shredders can handle:
Notebook covers and binders (this means you don't have to remove paper you wish to be shredded from notebooks)
CDs and DVDs
X-rays
Microfilm
VHS tapes
Medical records
Hard drives and flash drives
Computers
And there's much more. If you don't see what you need to be destroyed on this list, contact us and we'll be happy to let you know if we can shred it for you.
When to Use a Mobile Shredding Service
There are many times when hiring a shredding service to dispose of any sensitive documents may come in handy. For starters, shredding documents can help prevent your identity from being stolen and compromised. It can also be particularly useful in anticipation of moving when you wish to declutter your home as much as possible.
Whatever your reason, IntelliShred is ready to serve you with all of your shredding needs.
Years of Experience Destroying Sensitive Documentation
IntelliShred has been in operation since 1999, making us one of the oldest data destruction companies in the tri-state area. We've always prided ourselves on providing personalized customer service. We give our residential customers the same level of care and attention as our corporate customers.
As a NAID certified shredding company, we hold our employees and business operations to the highest standards to ensure the safety and confidentiality of all our clients.
This means we conduct random criminal background checks on all employees prior to hiring and perform drug screening during the pre-employment process and again randomly once they're hired. All IntelliShred personnel in uniform must wear a visible photo ID badge and all staff must sign a confidentiality and non-disclosure agreement.
Contact Us to Learn More About Our Residential Mobile Shredding Services
Our mobile shredding services make it easy and convenient for you to declutter your home of personal documents and materials that contain personal information.
Contact us today to learn more about what we offer and to request a free quote.