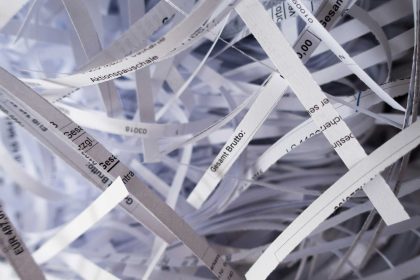 On-site Shredding Services
Your business' documents may be essential, but they can sure be a liability! Disposed records aren't only bad for the environment. Paperwork can give away confidential information too. Yet, managing document disposal can be a big-time sink. On-site shredding services can save you time and money by handling document disposal. Shredding services specialize in protecting your identity. But they also specialize in green paper disposal.
There are so many reasons for business owners to properly dispose of important documents and computer storage components. Obviously, the most important reason is privacy. If your company's private documents or hard drives were to get into the wrong hands, the confidential information they contain would be at risk.
Our on-site shredding services can easily solve this problem. These services are designed to support your business by destroying your documents effectively and efficiently. There are some companies who still do the shredding themselves, but end up being burdened by the valuable time and resources they spend on the destruction.
With on-site shredding services, you can:
Save Time and Money With On-Site Shredding Services
Shredding in-house can be an arduous and time-consuming task. Between the process of shredding and bagging, there's quite a lot to do! All that time adds up at the end of the day! You're paying your employees to shred rather than perform their daily duties. That translates to lost productivity as well. Your accountants should be accounting, not shredding all day!
On-site shredding services will send a specialist to your business to take over the chore. The specialist will handle everything from shredding to disposal. This gives you and your employees your time back.
Make Your Business a Bit Greener With Recycling Shredded Paper
Shredded paper can be recycled like regular paper. Yet, this doesn't mean recycling plants will accept it! You might have encountered this already, having a recycling center reject shredded documents. Why do plants do this?
Shredded paper is more difficult to recycle than typical whole paper. The smaller shreds make the standard process of recycling more challenging.  Luckily, on-site shredding services will have this problem solved ahead of time. On-site shredding companies will have relationships with recycling plants that accept shredded paper. You won't have to worry about your documents cluttering a landfill!
Protect Yours and Your Employees' Identities With a Shredder Service
The essential service that an on-site shredding company provides is identity protection. Whole documents can contain personal information from addresses to social security numbers. Even documents shredded with an office shredder can carry confidential info! Basic office paper shredders produce strips that can be put back together like a puzzle.
On-site shredding services will protect your information by destroying documents. Shredder services won't leave puzzle pieces for thieves to assemble, either! Professional shredding services carry certifications and licenses. Shredding services often carry certification from the National Association for Information Destruction. NAID auditors ensure that shredding companies follow industry standards. This includes inspecting equipment to checking to ensure no criminals are being employed. You can rest easy knowing your documents are being handled with care!
What Are the Best Shredding Services Near Me?
For businesses in the Hunterdon and Somerset counties, you can count on IntelliShred. Serving New Jersey for over 20 years, our staff are experts in document disposal. IntelliShred will protect your identity and bottom line! Get a quote for your business' disposal needs and start shredding today!
IntelliShred provides full-service on-site paper shredding and offers daily, weekly, monthly, service packages. Learn more about how we can help you protect your business, contact us today!