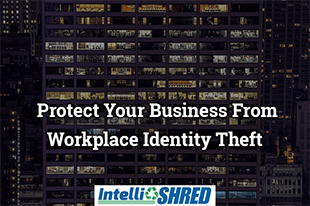 Workplace Identity Theft
In today's business landscape, the risk of workplace identity theft is high. The damage that can come from identity theft could not only affect your company's bottom line, but ultimately, its reputation as well. Most employers think they're immune because they've got special security measures in place. However, identity thieves seem to always be one step ahead, so it's crucial that your business is doing everything possible to avoid workplace identity theft.
There is a significant amount of damage that could be caused by workplace identity theft. Everything from bad press and a negative brand image, to a severe lack of trust from your customers. It's expensive and quite difficult to bounce back from the issues surrounding the theft of confidential information. Businesses which store any kind of confidential, sensitive or personal information, could also be held liable if it is stolen.
Business owners have no problem protecting their digital records with encrypted software and password protection, but hackers can still break through to steal confidential information. Even if a company uses firewalls, spyware and other tools to maintain the security of their computers and media storage devices, they are still at risk. Safeguarding their computers will help, but what about their hard copy information? Sensitive documents must still be used in certain industries, so that brings an increased risk if they are not disposed of properly.
If those paper documents accumulate and aren't regularly shredded or destroyed, your company's confidential information could easily fall into the wrong hands. Even your own employees may end up being the worst identity thieves. It's necessary to protect all forms of confidential information from workplace identity theft – digital, hard copy.
You could say that office shredders are somewhat effective, but it's not productive for your employees to spend the amount of time it takes to handle large volumes of paper. Most regular shredders can only take in a few sheets at a time, so that makes for a pretty inefficient process.
By hiring a professional shredding company, you will rest easy knowing your important files will be collected directly from your shred collection container and shredded securely. It's clear that destroying documents and digital storage devices should be a regular part of your company's operations. Make sure you find the most reputable professional shredding and destruction service. They will ensure your items are shredded and destroyed according to the federal guidelines, and they will provide a certificate of destruction to guarantee the shred was executed securely.
An experienced professional shredding service will set a schedule to collect and shred it onsite at your premises. Documents should be shredded in accordance with NAID AAA standards and a Certificate of Destruction will verify the process has been completed correctly.
IntelliShred has been successfully servicing its customers for over two decades. We are able to provide you with efficient and secure shredding services that can be timed to fit your busy schedule. Contact us today to get answers to all of your shredding questions.